Russian investor has implemented next renewable energy project in Kazakhstan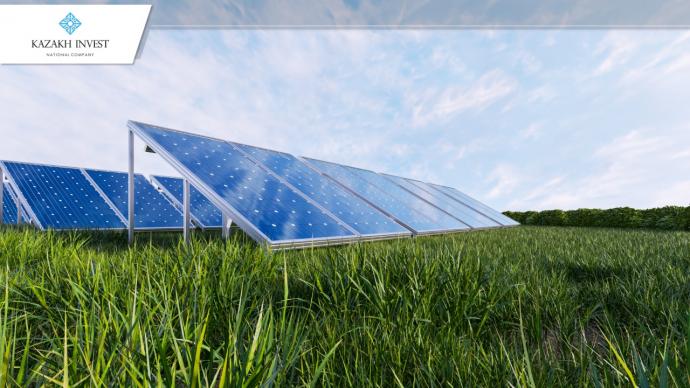 In the city Kentau of Turkestan region, the construction of the Kentau solar power plant with an installed capacity of 50 MW has been completed. The project, with the support of «KAZAKH INVEST», was implemented by a Russian investor - Hevel Group. Construction and installation work on the site began in April 2020, and the station was put into operation in February 2021.
The Kentau solar power plant has installed more than 127 thousand highly efficient heterostructure double-sided solar modules produced using HJT technology.
Double-sided modules, due to the use of the back side, provide additional power generation at the level of 23-24%, depending on seasonality and weather conditions. The efficiency of solar panels is also enhanced by tracker systems for tracking the movement of the sun, which additionally allows an increase in electricity generation by an average of 20-25% in comparison with the static method of arranging PV cells.
All solar stations under construction of the Hevel Group are equipped with the indicated highly efficient heterostructure two-sided solar modules and tracker tracking systems.
As the investor notes, the projected annual electricity generation by the SPP «Kentau» will amount to 104 million kW * h/year. This will allow avoiding about 52 thousand tons of CO2 emissions into the atmosphere.
During the construction of the solar power plant, more than 150 people were involved, 22 permanent jobs were created for the operation of the facility. Local contractors were involved in the construction work.
It should be noted that the Hevel Group is a major investor in the territory of the Republic of Kazakhstan in the field of green technologies. The company implements international projects for the construction of turnkey solar power plants entirely at the expense of its own investments.
The investment portfolio of Hevel Group in the Republic of Kazakhstan is represented by 10 projects of solar power plants with a total capacity of 288 MW and an annual planned output of 500 million kWh.
Two more solar stations are at the completion stage: SPP «Shoktas» 50 MW and SPP «Kushata» 10 MW.
In May 2020, with the participation of the President of the Republic of Kazakhstan Tokayev K.K. one of the largest in the CIS countries solar station of the Hevel Group with an installed capacity of 100 MW was put into operation. Currently, 7 more solar power plant projects with a total capacity of 148 MW have been implemented.
In addition, this year, the Hevel Group is starting the implementation of 2 more new solar parks in Turkestan and Kyzylorda regions with a capacity of 20 MW each.