The foundation stone of a new building materials plant was laid in the Turkestan region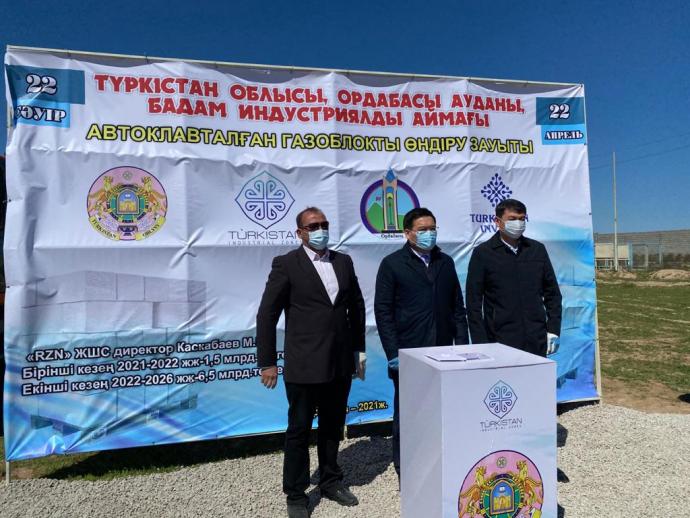 In the Ordabasy district of the Turkestan region, the construction of a new plant for the production of autoclaved gas blocks has begun. The project with the support of KAZAKH INVEST is being implemented by the Kazakh investor of the company "RZN "LLP.
The stone-laying ceremony was attended by the deputy akim of the Turkestan region Meirzhan Myrzaliyev, the regional director of KAZAKH INVEST in the Turkestan region Ersultan Zhanabayev and director of the management company for the industrial zones of the Turkestan region Talgat Kydyrbayev and others.
The project is planned to be implemented in 2 stages until 2022. The launch of the first branch with an investment of 1.5 billion tenge is planned for the first half of 2021. At this stage, the production capacity will be about 73 thousand m3 of products. 55 jobs will be created.
«The average annual demand for this product for 5 years throughout the Republic of Kazakhstan is 3.6 million m3. Considering the growth of construction in the Turkestan region, and the associated lack of modern high-quality gas blocks, the project of the RZN LLP company will give an impetus to the development of the construction industry in the region. I would like to note that this enterprise will be engaged in the production of autoclaved, silicate cellular aerated concrete using waste from the state district power station as raw material, which is also a great advantage» noted Ersultan Zhanabayev.
At the second stage, investors plan to invest about 6.5 billion tenge and expand production to 150 thousand m3 per year, with an increase in the number of staff to 180 people. It is planned to reach its design capacity by 2029.
The project is being implemented on the territory of the industrial zone "Badam", which allows the investor to receive a number of benefits and preferences, as well as the necessary investment site and infrastructure.